The last year marks a massive paradigm shift on the TV screen, as more people than ever turn to YouTube on connected TVs (CTV) not only to find happiness and be entertained, but to feel connected and fulfill their needs. Whether it's leaning back with a good movie, dancing along to the hottest music video with roommates or finding their zen with a guided meditation, YouTube is people's Main Stream — with over 120 million people streaming YouTube and YouTube TV on their TV screens in December 2020 in the US.1
Today we're sharing new consumer trends and insights, and spotlighting new measurement solutions to help brands tap into the streaming boom on YouTube.
YouTube CTV watch time continues to grow fast
People are choosing to watch YouTube on connected TVs more than any other ad-supported platform because it has the content that is relevant to their lives and passions. According to Comscore, YouTube is #1 in reach and watch time among ad-supported streaming services, and is #1 in growth by watch hours over the past two years.2
This is driven in part by a new wave of viewers who choose to watch YouTube primarily on the TV screen. In December 2020, a quarter of logged-in YouTube CTV viewers watched content almost exclusively (more than 90%) on the TV screen.3 For brands, this underscores the importance of connected TV campaigns to reach larger and incremental audiences across YouTube, and engage audiences with bigger creative formats.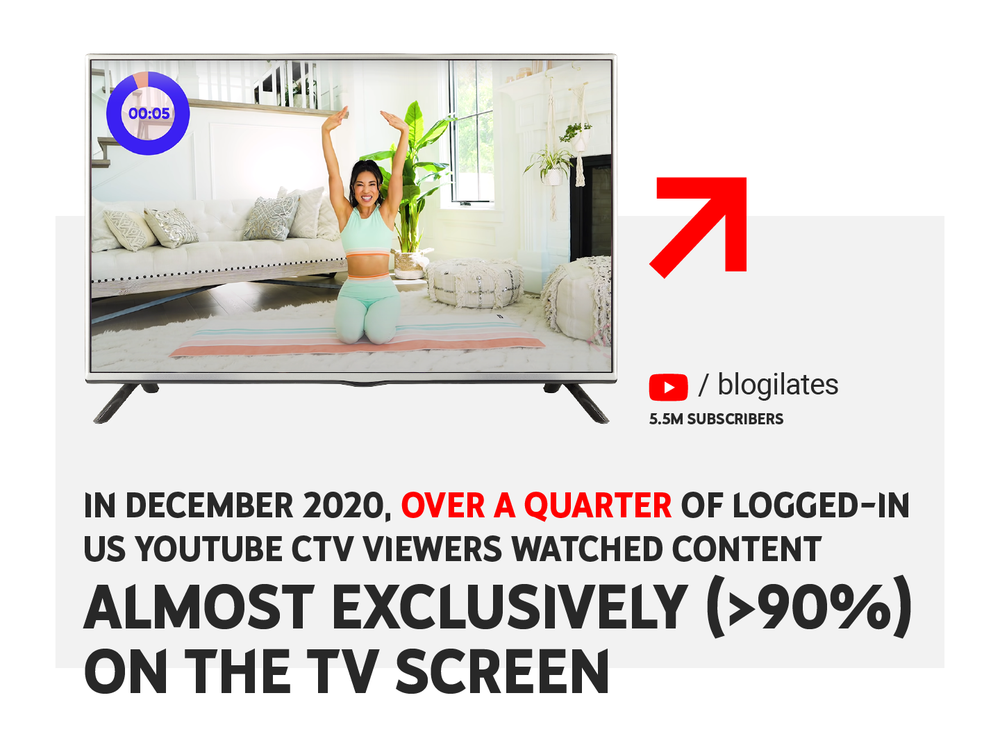 People are choosing to experience their favorite YouTube content on TV more and more because they are spending more time at home and want to enjoy a big screen viewing experience, or more importantly, they want to experience the content with others. In a recent custom Nielsen study commissioned by Google, we found that 26% of the time, multiple 18+ viewers are watching YouTube together on the TV screen, compared to 22% on linear TV.4
Over the last year, we've seen huge surges in viewership for content that people like to watch together including music, cooking shows and comedy or humor. Additionally, we've seen people transport themselves at home to faraway places with an increase in travel content watch time, and further their education in the living rooms with education-related videos.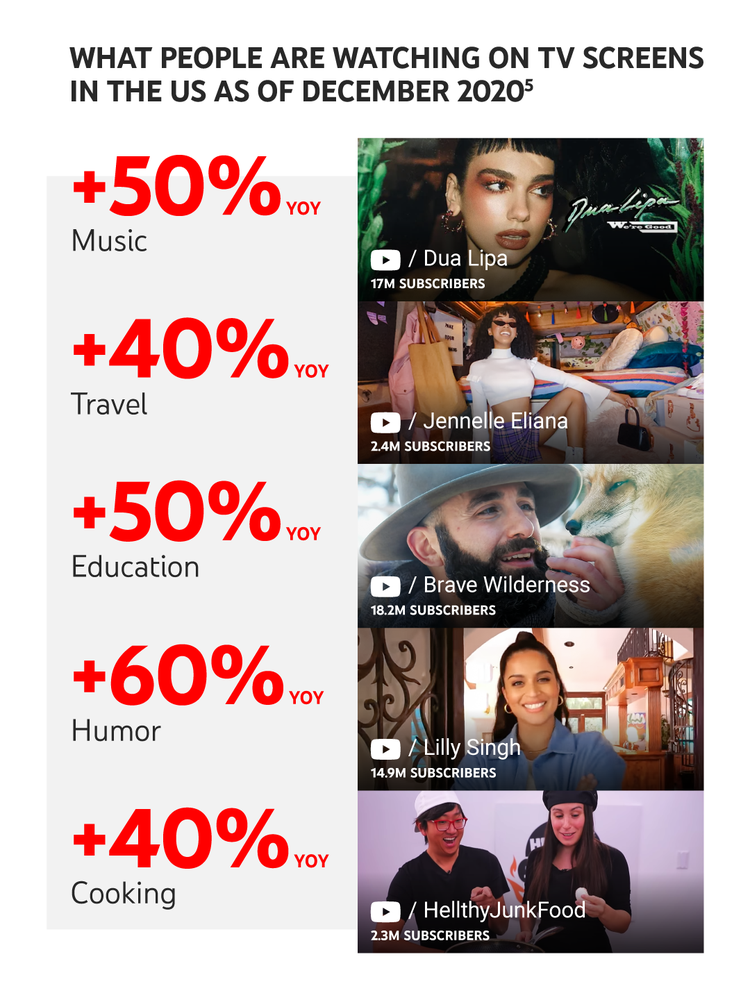 Nielsen measurement soon available on CTV campaigns
As YouTube CTV viewership continues to grow, we know it's important for advertisers to be able to measure the impact holistically alongside other devices and platforms. As a result, for the first time ever advertisers will be able to measure their YouTube CTV campaigns in Nielsen's Digital Ad Ratings (DAR) and Total Ad Ratings (TAR). This includes all ways to buy on the YouTube main app, including YouTube Select CTV, and YouTube TV.
The first phase of measurement in Nielsen's Digital Ad Ratings starts with YouTube TV.  Measurement for YouTube main is estimated to be added ahead of the 2021-2022 Upfront season.
Brands find new audiences and efficiencies with YouTube CTV Ads
Early studies have shown that YouTube CTV campaigns are driving incrementality across linear TV and YouTube desktop and mobile campaigns. Christina Seidner, Senior Brand Manager, Kimberly-Clark, turned to YouTube for their Pull-Ups campaign as an efficient way to reach new audiences.
"We believed YouTube CTV would boost our Pull-Ups campaign in a cost-effective way as our customers continue to shift attention from traditional TV to streaming platforms. What we found is that what's true about YouTube overall is true about YouTube CTV – it delivers unique reach to TV," says Ms. Seidner.
But, the real learning for us was in the incrementality CTV provides to our other YouTube cross-device buys – our CTV only campaign delivered an incremental reach of 36% to our core cross-device campaign.
While viewers turn to YouTube on the TV screen for what they need and want in the moment, it's also helping brands reach new audiences and achieve better results. Reach out to us to learn more about YouTube CTV Ads, and the new features shared today to support your campaigns.
If you're a TV advertiser, Bob Abbate Marketing can help you reach the estimated 31.2 million households that cut the cable cord. Learn more about OTT/CTV advertising and download our free OTT/CTV advertising ebook here. 
---
SOURCE: YouTube Ads & Commerce Blog, March 2021.
1. In the US, over 120M people streamed YouTube or YouTube TV on their TV screens in December 2020. (YouTube Internal Data, US, December 2020)
2. Comscore, OTT Intelligence, Sep. 2018, Sep. 2019, Sept. 2020, U.S.
3. YouTube Internal Data, US, December 2020
4. Custom Nielsen study commissioned by Google. Custom YouTube cTV match to Cross-Platform Homes Panel. Coviewing percentage is calculated as the percentage of minutes when a P18+ is watching with another P18+ in the same household. YouTube commercial viewership identified by matching served time of the cTV ping with Cross-Platform Homes Panel viewership during that minute. Linear TV is based on Live Total Day viewing of commercial minutes across all broadcast and cable networks. One minute qualifier. 11/5/2019-11/28/2019; 2/14/2020-2/29/2020. Results among US TV Households
5. 1) Watch time of music content on TV screens has grown over 50% year over year in the US as of December 2020. 2) Watch time of travel content on TV screens has grown over 40% year over year in the US as of December 2020. 3) Watch time of education related videos on TV screens has grown over 50% year over year in the US as of December 2020. 4) Watch time of humor content on TV screens has grown over 60% year over year in the US as of December 2020. 5) Watch time of cooking content on TV screens has grown over 40% year over year in the US as of December 2020. (YouTube Internal Data, US, Dec 2020 vs. Dec 2019)